(13th of January, 2021) – PECB, a global provider of professional ISO standards trainings and certifications, has signed a partnership agreement with ECRD Professionals to expand its presence in the Nigeria market. Based on the agreement, the ECRD Professionals will begin to provide services related to ISO standards.  
PECB is a certification body which provides education and certification under ISO/IEC 17024 for individuals on a wide range of disciplines. As a global provider of training, examination, and certification services, PECB offers its expertise on multiple fields, including, but not limited to, Information Security, Privacy and Data Protection, Business Continuity, Quality and Service Management, Risk Management, Health and Safety, and Sustainability.
For further information about PECB's principal objectives and activities, visit www.pecb.com.
National Industrial Safety Council of Nigeria (NISCN) It is a tripartite consultative Occupational Safety and Health Council which was established May 26th 1964 by a Federal Government cabinet decision under the sponsorship of the Federal Ministry of Labour and Employment in line with ILO Convention 187 (Promotional Framework for Occupational Safety and Health Convention. It is a non-profit making tripartite organization consisting of Governments (Federal and States), Employers (NECA) and workers representatives (NLC and TUC) and all other national Occupational safety
The Council has greatly contributed to the growth of Occupational Safety and Health in Nigeria, this contribution includes the establishment of Nigeria Society of Safety Professionals (NSSP) 25th August 1980 at the 5th annual conference of the National Industrial Safety Council of the Nigeria as a professional technical arm of the Council which is now Institute of Safety Professional of Nigerian (ISPON)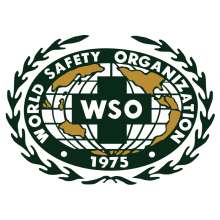 WORLD SAFETY ORGANIZATION (WSO) is an international occupational & Environmental Safety & Health organization based in the United State of America, Warrensburg Missouri. Accredited by the following
UIA:UNION OF INTERNATIONAL ASSOCIATION,  a research institute and documentation centre, based in BRUSSELS(-WESTERN EUROPE).
The UIA has consultative status with ECOSOC and associate status with UNESCO (United Nations Educational Scientific and Cultural Organization based in Paris, head quarter of France)
IACSEET: INTERNATIONAL ACCREDITING COMMISSION FOR SAFETY AND ENVIONMENTAL EDUCATION IS A COMMISION UNDER UIA. 
ICAC (www.icacnet.org): International Certification Accreditation Council. Recognized Third-Party Evaluation to ISO/IEC 17024 Standards.
The Chartered Institute of Personnel Management of Nigeria was established as an umbrella Association for Practitioners of Personnel Management in 1968 as the Personnel Management Association of Nigeria. In 1973, it was renamed as Institute of Personnel Management of Nigeria. Finally, Act No 58 of 1992 chartered the Institute.
Department of Petroleum Resource (DPR) is a department under the Nigerian Federal Ministry of Petroleum Resources (FMPR), saddled with the responsibility of exploration and importation of Petroleum products. It also oversees the safety and other regulations that relate to the exportation and importation of the products into the country.  As part of its activities, the department manages the up and downstream in Nigeria petroleum industry. 
DPR Permit is the license required to operate a company or facility that has to do with the Oil and Gas industry in Nigeria.
Succinctly put, the DPR is the sole body responsible to formulate Regulations and Guidelines for Oil and Gas Industry activities in Nigeria.