General Purpose Alarm Siren
Alarm systems are primarily designed to warn occupants of a fire so they can safely evacuate the premises. Get one for your home, school, estate, organisation, church etc
Smoke/Heat/Carbon Monoxide detector gives you early warning of fire and intense smoke.                      Get one for your home, school, estate, organisation, church etc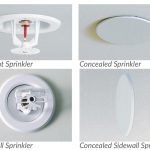 Fire sprinklers are automatic system meant to protect your building from fire. As soon as the sensor on the sprinkler system picks up heat from the flames, the sprinkler heads will go off and help reduce the severity and damage of the fire
PORTABLE FIRE EXTINGUISHER
We can help you in selecting and installing the right type, size and number of fire extinguishers for your business.
PERSONAL PROTECTIVE EQUIPMENT
Personal protective equipment is protective clothing, helmets, goggles, or other garments or equipment designed to protect the wearer's body from injury or infection. Call us today for all your supply
From the study, it has has been  concluded that speed breakers are effective means of controlling speed as well as reducing frequency and severity of accidents.